Dosing Automation
Minimum error
Maximum capacity
Accurate reporting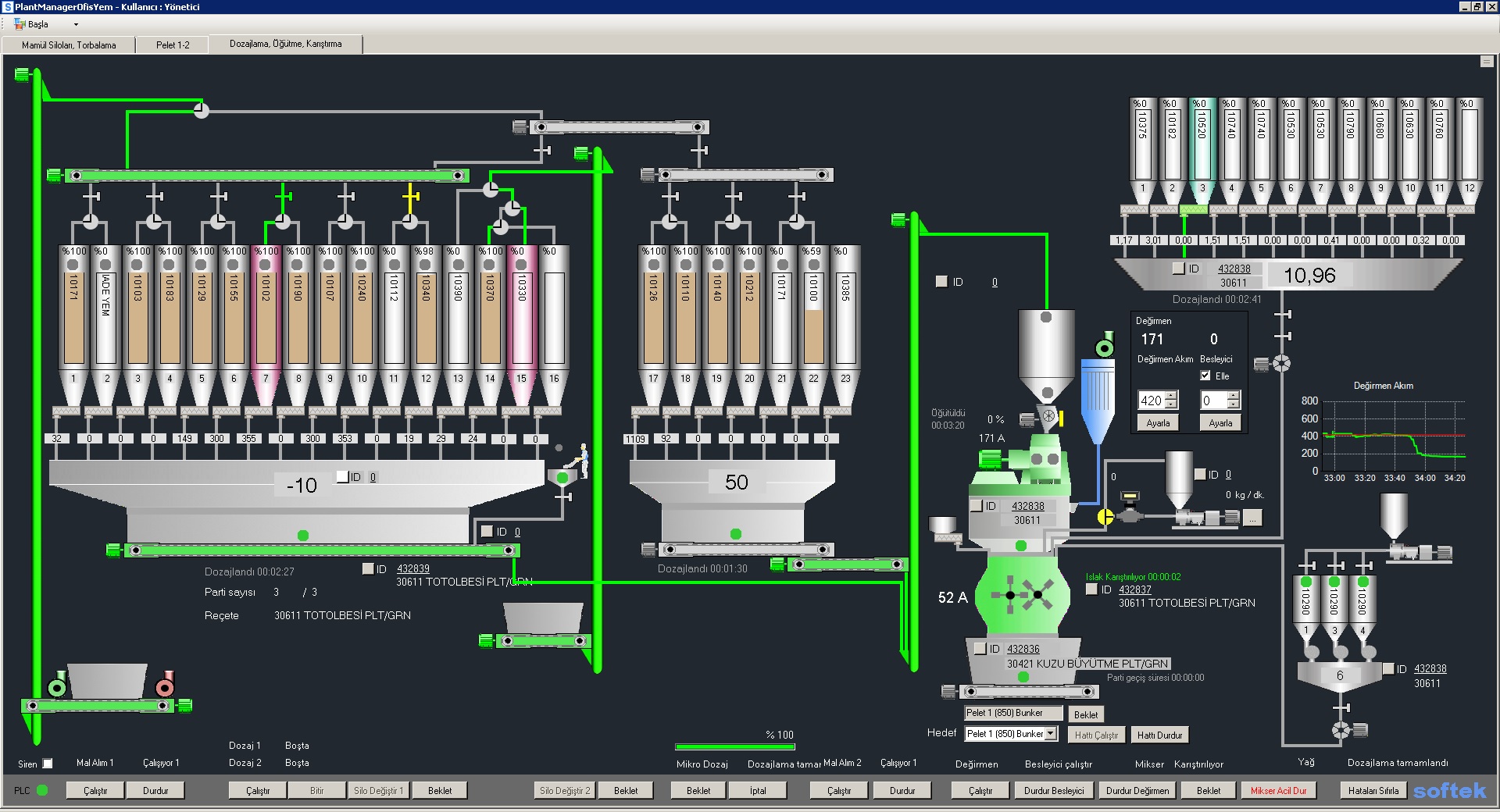 Dosing Automation Principles
Batch is calculated using formula/recipe.
Items/rawmetarials are grouped into weighing groups: Example: macro dosing weigher 1, macro dosing weigher 2, micro dosing weigher, fat weigher, molasses flowmeter, hand-tipping.
Weighing groups are run in parallel as much as possible. Example: macro dosing weighing, micro dosing weighing and fat weighing are started as soon as route is available.
In a weighing group, if possible, parallel weighing is used also. Example: an item/rawmaterial exists in more than one silo and those silos are in one group. In this case dosing system takes item/rawmaterial from all those silos in parallel.
Each batch is tagged with a unique id. All the elements (bunker, hammer mill, mixer...) in the route indicate the batch id its processing. Database records and reporting are based on batch id. This is important for traceabillity.
Time required to process the batch on each element (weigher, hammer mill, mixer...) on the route are recorded and reported.
Automatic after flow correction is performed for each weighing.
Tolerance is monitored for each weighing.
Dosing results are recorded and reported for each batch.
Features
Maximum parallel weighings
Unlimited number of weighing groups
Unlimited number of rawmaterials/items
Unlimited number of formula/recipe
After flow correction
Wide variety of supported mechanics
Batch or continues dosing
Conforms to traceability
ERP integration
Application Areas
Feed mills
Additive production
Any process involving dosing of flowable materials
Supported mechanics
Speed controlled screw conveyor
Grid slides
Liquid pumps
Weighers with load cells
Liquid and solid flowmeters
Click to view the projects we have implemented.